Background
Edit
Weapon Information



Name

Sword

Gun Type

Slot 2 Sword

Firing type

Weight

Medium

Damage Level

100

Belongs to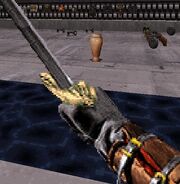 A standard Sword, with a very sharp blade made of L6 Bainite Tool Steel. Strong, effective, and won't break even when fighting the toughest of enemies.
The sword is a powerful weapon; it deals high damage and can slice straight through body-armour. You also don't need to worry about ammunition. The downside is that you'll need to be close to your targets to do damage; however Merlijn's stamina and his shield make this relatively easy.
Alternate fire is a 360 degree sweep of the sword, dealing damage to any enemies in a circle of Merlijn. This drains a large amount of stamina though, and could potentially leave you vulnerible.
The Sword has no upgrades.
Ad blocker interference detected!
Wikia is a free-to-use site that makes money from advertising. We have a modified experience for viewers using ad blockers

Wikia is not accessible if you've made further modifications. Remove the custom ad blocker rule(s) and the page will load as expected.