Character Information



Full Name

Sang

Nationality

Belgium

Personel Battle level

B+

Paranormal Level

Ext. High

Starting health level

75

Max stamina

100

Special Abilities

Blood Sigil
Background
Edit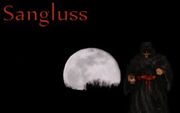 Sangluss is a Warlock who hails from Belgium. Although initially a evil being, Sang fought the dark grip that becoming a Warlock requires, and now uses his powers for good (the Phantom Bat that hovers around his head remains as a reminder of his past days) However doing this created a evil twin who dubbed himself 'Le Sang' and shortly fled to Egypt. Only time will tell what horrors the Warlock's twin may be conducting. Although not as physically strong or as skilled in contemporary weapons as most of the other members of the squad, Sang's magical abilities mean that he has a potentially unlimited well of power to tap into.
Sang grew up in Belgium; his parentage and place of birth are unknown and he refuses to elaborate. All we are aware of is that he was taken in by a tutor and with his help, freed himself from his dark past. Sang's supernatural level exceeds any other member of the squad, past or present. With training and study, it's believed he can eventually reach the stage known as an 'Endless sorcerer' meaning his powers would essentially make him a god.
Ad blocker interference detected!
Wikia is a free-to-use site that makes money from advertising. We have a modified experience for viewers using ad blockers

Wikia is not accessible if you've made further modifications. Remove the custom ad blocker rule(s) and the page will load as expected.