Background
Edit
Weapon Information



Name

PPSH41

Gun Type

Slot 3 SMG

Firing type

Weight

Large

Mag Capacity

71

Damage Level

9

Belongs to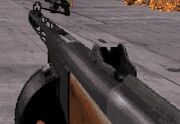 The PPSh-41 is a russian SMG firing a light pistol cartridge. Inaccurate, but has a drum of 71 rounds.
Boasting a massive magazine of 71 rounds with an incredible fire rate, The PPSh41 is a great weapon for attacking crowds of enemies. It's accuracy is relatively poor however, and it's damage level is relatively low.
The PPsh41 can be aquired by rescuing Matvei and then purchasing it from the Shopkeeper's stock for 15k base budget.
There are no upgrades for the PPSh41.
More information
Edit
Wikipedia article on the PPSH41