Character Information



Full Name

Mikko Sandt

Nationality

Finland

Personel Battle level

A

Paranormal Level

Zero

Starting health level

150

Max stamina

140

Special Abilities
Background
Edit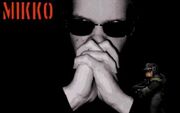 Mikko Sandt, leader of Sandt Industries, is a powerful cyborg brought back from death (At the hands of Duke Nukem as a hitman) by his fanatical followers, who worship him as a God. Pioneering interdimensional commerce and travel, Mikko harvested Weapons and Armour from across many Universes. Mikko joined the AMC Squad not only to test his new powerful body but to also explore and find new technologies to use in his corporation. Before his cybernetic rebirth, Mikko was already well trained in the arts of war, but had no need of dirtying his hands directly - his cult would of gladly marched into hell if he uttered the command. Now though, he is nothing more than a killing machine. Using nothing but MS Corp tech and weapons, Mikko is nearly unstoppable in the field.
Like many other agents, Mikko's home is not his birthplace. Born somewhere in Finland, MS Corp itself lies mostly in America where it was free to flourish.
Ad blocker interference detected!
Wikia is a free-to-use site that makes money from advertising. We have a modified experience for viewers using ad blockers

Wikia is not accessible if you've made further modifications. Remove the custom ad blocker rule(s) and the page will load as expected.