Background
Edit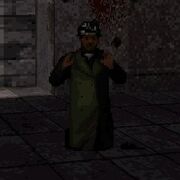 Matvei is a russian arms dealer that was captured by the Emperical Uninion and held in their bunker.
Matvei provides Russian weapons to Highwire, Sang, Rusty and James, providing his life was saved in the Bunker. These new weapons can be bought at the Shopkeeper's den.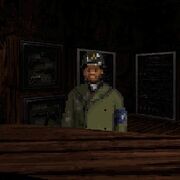 Matvei can be shot by the Enemy soldiers if you're not fast enough, or he can be killed by one of your stray bullets. If you manage to kill them both fast enough and then talk to him, he'll give you some information about Prokhor Vilmos's Mech-suit. After this he'll be considered 'saved' and will show up at the AMC weapon shop next to the Shopkeeper.
If Matvei dies than he'll no longer appear at the Shop, and his weapons won't be available for purchase (If you've already purchased one however, you can still use it)
Weapons Provided
Edit