Background
Edit
Majestic 12 is a covert and secretive group set up by the US Government to research and challenge any paranormal/extra-terrestrial threats to the USA. It's scope and goal have changed from leader to leader.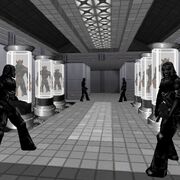 During the events of Imagination World, Majestic 12 was lead by
Magnus Giesler
, a strange and charismatic man. Under his lead MJ12 aggresively researched the alien creature
Revelion
, trying to unlock it's powers and abilities.
James battled MJ12 security forces throughout his fight against Magnus; although numerous and powerful they were poorly equipped in MJ12 combat suits and so ultimately posed little threat. Various documents found in MJ12 facilities pointed to the fact that although a good leader, Magnus was poor at actually running the company efficiently; hiring poorly trained thugs to snatch subjects off of the streets and leaving a trail of clues.
After the events of Imagination World, MJ12 seemed to of disappeared without a trace. Wherether this means the group has dissolved or not remains to be seen, but references to higher-up leaders than Magnus implies this isn't the case.

Near the end of the Arsia Mons incident, James boarded a space-station that was broadcasting the letters 'XII' Despite knowing it was most likely bait James headed to the spacestation, a decision that would cost him greatly.
Upon fighting an advanced squad of soldiers, James encountered Magnus Giesler who was still alive. The two exchanged words before Magnus unleashed a telekinetic machine called PATCOS onto James; after a tough fight PATCOS dealt a powerful blow and tore James' right arm off.
Known members
Edit