Background
Edit
Weapon Information



Name

MS-Corp Assault Shotgun

Gun Type

Slot 2 Shotgun

Firing type

Weight

Medium

Mag Capacity

10

Damage Level

10x7 pellets

Belongs to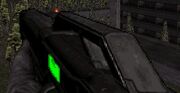 The MS-Corp Assault Shotgun is a new MS-Corp development; an automatic drum-fed shotgun with a 10 round capacity. Although it loses a few of the standard shotgun's features, it's drastic rate of fire increase gives it a big advantage in other areas.
The Assault Shotgun is fully automatic, and has a capacity of 10 rounds. Being drum fed means it reloads far quicker than the shell-by-shell loading of the standard Shotgun, although accuracy and versatility suffer as the Assault Shotgun cannot fire alternate ammo-types. The rate of fire means that if you have plenty of shells than damage output won't be an issue, at least against standard targets.
The Assault Shotgun can be found in Snow base, near the Mech suit's hangar area. Behind the Light power suit enemies is an area surrounded by fencing; you can find this gun near a dead MS-Corp soldier.
The MS-Corp Assault Shotgun has no upgrades.
Ad blocker interference detected!
Wikia is a free-to-use site that makes money from advertising. We have a modified experience for viewers using ad blockers

Wikia is not accessible if you've made further modifications. Remove the custom ad blocker rule(s) and the page will load as expected.