Background
Edit
Weapon Information



Name

M1918 BAR

Gun Type

Slot 3 Rifle Weapon

Firing type

Weight

Large

Mag Capacity

20

Damage Level

30 + up to 15 randomly

Belongs to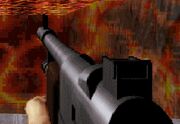 A powerful automatic rifle designed in 1917. Fires the .30-06 cartridge, and has a mag capacity of 20 rounds.
The BAR has a relatively small magazine of 20 rounds, but deals a huge amount of damage with good accuracy as well. Ammunition is limited as well, but if you would prefer to have a good hard hitting weapon compared to a low power one with more ammunition than the BAR is an ideal choice.
The BAR can be aquired by purchasing it from the Shopkeeper's stock for 20k base budget.
There are no upgrades for the BAR.
More information
Edit