Background
Edit
Weapon Information



Name

Gold Talon

Gun Type

Slot 1 Pistol

Firing type

Weight

Medium

Mag Capacity

8

Damage Level

24

Belongs to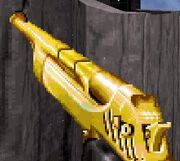 A Custom .44 Handcannon; fires gold standard rounds good against all enemy types.
The Gold Talon is a potent weapon very similar to the Silver Talon. Although it does less damage it's rounds are effective against all enemy types (Power armour, Supernatural, .etc) Making it an amazing all rounder weapon. This is reflected in the price however.
The Gold Talon can be purchases from the Shopkeeper for 75k base budget after beating every level on Expert (or above) and unlocking the Gold Expert achievement.
The Gold Talon has no upgrades.
Ad blocker interference detected!
Wikia is a free-to-use site that makes money from advertising. We have a modified experience for viewers using ad blockers

Wikia is not accessible if you've made further modifications. Remove the custom ad blocker rule(s) and the page will load as expected.