Character Information



Full Name

Geoffrey

Nationality

Netherlands

Personel Battle level

A

Paranormal Level

Zero

Starting health level

120

Max stamina

100

Special Abilities
Background
Edit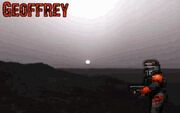 Originally a Graphics designer, Geoffrey was hired by a mysterious client to help create a new logo - however this client turned out to be a facist state. After the war, Geoffrey's name was discovered in documents and was accused of being a collaborator. He was forced to flee and live as an outlaw on Mars. Eventually he was approached by James, and originally declined until offered the chance to clear his name from any association with the facist state. Geoffrey gained many new and deadly skills whilst on the run; learning all he could from the few friends he could trust, he became a tough and ruthless fighter utilising the weapons of the Mars Defence Force. The harsh Martian atmosphere forced Geoffrey to visit illegal aug clinics, giving him a slight health boost over the majority of people.
Originally from Holland, when he had to leave his peaceful life behind Mars became his symbolic birthplace; when the word home is mentioned Geoffrey thinks not of Europe but of Mars.
Ad blocker interference detected!
Wikia is a free-to-use site that makes money from advertising. We have a modified experience for viewers using ad blockers

Wikia is not accessible if you've made further modifications. Remove the custom ad blocker rule(s) and the page will load as expected.