Background
Edit
Weapon Information



Name

Flip High Explosive Grenades

Gun Type

Slot 5 Thrown Weapon

Firing type

Explosive, Projectile

Weight

Light

Mag Capacity

N/A

Damage Level

200, radius damage

Belongs to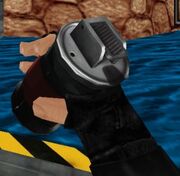 A powerful hand-held explosive device; once flipped the Grenade will detonate on impact. It's very dangerous to the user due to this as it will explode no matter what distance thrown, but this also can be considered an advantage as the user does not have to compensate for bounce. James uses the Flip-HE grenades throughout both IW and AMC TC
Imagination World
Edit
The HE Grenade functions the same between IW and AMC-TC, except in AMC-TC it can be thrown further.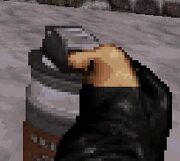 They explode on contact with anything so make sure not to throw it aanything that's very close by as the damage can easily kill you even if you're at full health. This does mean, however, you can use it for long distance throwing: enemies are less able to avoid it as it explodes on contact, and less adjustment has to be done for bouncing and time delay.
Ad blocker interference detected!
Wikia is a free-to-use site that makes money from advertising. We have a modified experience for viewers using ad blockers

Wikia is not accessible if you've made further modifications. Remove the custom ad blocker rule(s) and the page will load as expected.