Imagination World
Edit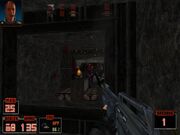 Imagination World is a standalone game, and prequal to the AMC TC. It stars EDF agent James Stanfield as he fights a corrupt World Government, and then a terrible creature from the starts known as Revelion as well as a covert group called Majestic 12.
Moddb page with download: http://www.moddb.com/mods/imagination-world-tc
Pages in category "Imagination World"
The following 13 pages are in this category, out of 13 total.
Ad blocker interference detected!
Wikia is a free-to-use site that makes money from advertising. We have a modified experience for viewers using ad blockers

Wikia is not accessible if you've made further modifications. Remove the custom ad blocker rule(s) and the page will load as expected.