Background
Edit
Weapon Information



Name

Auto-Shotgun

Gun Type

Slot 2 Shotgun

Firing type

Weight

Long

Mag Capacity

8

Damage Level

7x10 pellets

Belongs to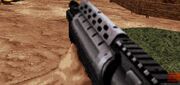 A custom-built Shotgun; despite it's name it's actually Semi-automatic, firing once per trigger press. It's rate of fire is still very quick, and it takes box magazines making it quick to reload.
The AutoShotgun is semi-auto, meaning that it fires as fast as you can click the mouse button. This coupled with a quick reload means it's devastating to the majority of enemies you face; however it's inaccurate and cannot accept alternate shotgun shells.
There is a single upgrade for the Auto-shotgun.
Drum Magazine
Edit
Replaces the 8-round default box magazine with a 16-round drum magazine. Costs 300 credits.
Ad blocker interference detected!
Wikia is a free-to-use site that makes money from advertising. We have a modified experience for viewers using ad blockers

Wikia is not accessible if you've made further modifications. Remove the custom ad blocker rule(s) and the page will load as expected.