Background
Edit
Weapon Information



Name

AKM

Gun Type

Slot 3 Assault Rifle

Firing type

Weight

Medium

Mag Capacity

30

Damage Level

Medium

Belongs to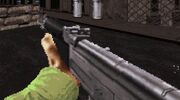 The AKM is an upgraded version of the AK-47 assault rifle, and fires the 7.62mm round. Highwire was reluctant to upgrade his old AK-47 rifle, but a bullet to the chest that nearly killed him quickly changed his mind.
The AKM is a good all-round rifle, and Highwire's default. It does good damage, goes through body-armour, and has a host of upgrades to make it more effective as well.
Reload time for the gun is short unless the Magazine is completely emptied, in which case it takes slightly longer for the gun to be cocked as well. Keep this in mind when in large fire fights.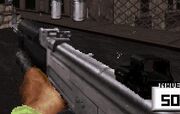 There are three upgrades for the AKM.
Drum magazine
Edit
Increases the gun's capacity to 100 rounds. Costs 250 credits.
Grenade Launcher
Edit
Adds a GP25 grenade launcher to the AKM; fires grenades. The GL is activated by either going into the fire-mode menu or pressing the AKM's selection key again. Costs 400 credits.
Red Dot Sight
Edit
Adds a holotech sight to the AKM; by pressing Alt-fire you can aim through the sight, increasing zoom by a little and making your shots more accurate. Costs 200 Credits.
More information
Edit